Posted on 6 August 2009 | 3 responses
"Another Harvest Moon," a just completed independent theatrical film starring some of Hollywood's most beloved, award-winning veteran actors, will have its world premiere at the Rhode Island International Film Festival on August 7, with most of the principal cast attending.
This is the 199th film in the continuing career of 92-year-old Oscar® and BAFTA® winner Ernest Borgnine ("Marty"), who will be in Rhode Island to receive a Lifetime Achievement Award.
While he's there, he took a tour of Naval Station Newport, where he received training before entering World War II. Ernie gets a chance to check out the training facilities and students and even to try his hand at piloting the impressive ship simulator at the Surface Warfare Officers School. Watch Providence Journal video by Sandor Bodo
CLICK HERE TO SEE ERNIE AT THE NAVAL BASE.

Posted on 21 July 2009 | 3 responses
Ernest Borgnine was the guest of honor Saturday night at the Italian-American Chamber of Commerce's 102nd annual gala dinner.
The 92- year- old actor is the recipient of the organization's 2009 humanitarian award. He was honored not just for his long acting career, but also for his service in the U.S. military during World War II.
Chicago's own Dennis Farina presented Borgnine with the award.
Posted on 20 July 2009 | 4 responses
Ernest Borgnine is the 21st performer to nab a guest acting nod for an appearance on "ER." He appeared in both Episode 19 – "Old Times" – as well as the series finale – "And in the End" – as a loving husband dealing with the death of his wife (Beverly Polcyn) after a long illness. Over the first 14 seasons, 13 actors – including last year's nominee Stanley Tucci – have earned Emmy noms for guesting.
Ernie won his only Oscar bid as best actor in best pic winner "Marty" in 1955. He also won the Golden Globe (drama) award as well as the BAFTA foreign actor honor for that role. However, he lost his previous two Emmy bids. In 1963, he got a nod in the expansive lead actor in a series category for the laffer "McHale's Navy" but lost to E.G. Marshall, star of the legal drama "The Defenders." And in 1980, Borgnine was bested in his bid for best supporting actor in a limited series or special for "All Quiet on the Western Front" by George Grizzard in "The Oldest Living Graduate."
We all have our fingers crossed and expect big things at the ceremony.
Posted on 8 July 2009 | 1 response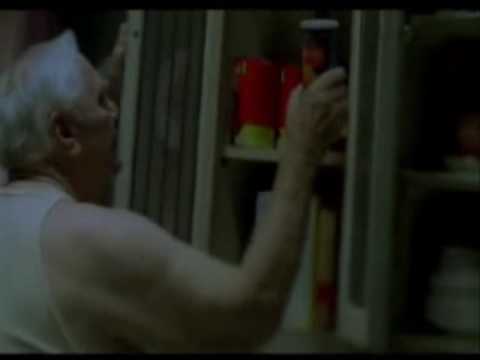 This was piece was directed by Academy Award winner Sean Penn who chose Ernie personally for this role, The film 9-11-01 was an incredible concept of 9 directors 11 min 1 sec running time for each of the 9 directors. Ernie gives an absolute incredible performance and shows he still has that Oscar touch!
Posted on 8 July 2009 | 1 response

Posted on 3 July 2009 | Comments Off
Oscar-winner Borgnine reflects on a career spanning six decades and totaling more than 190 film and television roles. After a nomadic childhood (Connecticut to Chicago to Italy), Borgnine, born in 1917, returned to Connecticut for high school. Following 10 years in the navy, he studied drama at Hartford's Randall School and began acting at Virginia's Barter Theater, advancing to live TV and Broadway roles. His striking performance as the sadistic Fatso in From Here to Eternity (1953) catapulted his career, and two years later he won an Academy Award for his portrayal of the lonely Bronx butcher in Paddy Chayefsky's Marty. In the 1960s, he was reluctant to do a TV series until an encounter with a teen who recognized Borgnine but couldn't name any of his films prompted the actor to immediately do the TV series McHale's Navy. Summoning up on-set movie memories, Borgnine unleashes an arsenal of anecdotes, such as Joan Crawford's hatred of Mercedes McCambridge: Joan thought she was mocking her… and she let fly a fusillade of insults like I've never heard, not even in the Navy. With astute observations on the Hollywood hierarchy and tales about everyone from Lee Marvin and Steve McQueen to Bette Davis and Kim Novak, he writes with an unassuming, no-nonsense tone. His love of filmmaking and his respect for his fellow actors permeates the pages of this engaging and satisfying memoir. (Aug.)
Copyright © Reed Business Information, a division of Reed Elsevier Inc. All rights reserved.
Welcome to Ernie's World.

You have reached the official web page of Academy Award Winner Ernest Borgnine. Here you will find out about all things Ernie and get a chance to hear from the man himself.

Ernie's Recent Tweets

Links

Recent Posts

Watch episodes of McHale's Navy on Hulu